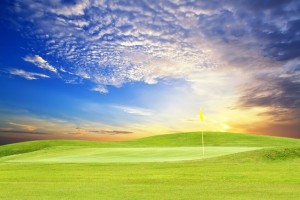 "The Industry Standard in Virtual Golf."
That isn't just a snappy marketing statement. For starters, Golfstead.com ranked our TruGolf Vista 12 Golf Simulator as the No. 1 Commercial Golf Simulator in the world. And as one happy five-star customer aptly put it in an E6 review, "It's always sunny and 72 degrees inside."
E6 CONNECT is the highest-quality, most lifelike and customizable golf simulator software ever created. It can be used with launch monitors to teach or train on the driving range, to compete in leagues and online events at a commercial facility, or to play fun indoor golf games at home with friends and family.
Some highlights:
#GOLF CONNECTED: The system connects golfers, gamers, and fans to the future of golf. A growing network of connected golfers can gain access to new courses, mini-games, skills combines, training aids and more of the most-advanced golf software ever created. This proprietary gaming engine has been built to scale and offers cross-platform virtual golf competition. Now the E6 experience is available on more platforms for more devices.
RANGE REVOLUTION: TruGolf has created a separate software product called E6 RANGE, which allows commercial partners to customize E6 CONNECT and utilize its technology and content with an intersection of world-class content and analytic tools to help facilities understand customers. This integration of gameplay and customer relationship management is a cost-effective solution to help facilities grow.
RANGE GAMES & VIRTUAL COURSES: Our team of artists and programmers has been building unique golf content for nearly 30 years. With E6 RANGE, driving range customers have access to play world-class courses, and many of the games or modes of play developed for E6. This includes traditional modes of play like stroke, scramble, best ball, Stableford, and match play. It also offers mini-games like Closest to the Pin, DEMOLITION DRIVING RANGE, Long Drive and 301.
USER-FRIENDLY INTERFACE: This state-of-the-art software is 4K compatible and has been rebuilt with a user-friendly interface. In addition to its superior usability, E6 CONNECT has a number of customizable features allowing golfers full control of in-game settings, allowing you to work on your game using the highest-quality and most flexible simulation engine on the market.
100 GOLF COURSES: E6 offers the most prestigious virtual golf course library, with 100 courses currently available. According to Golf Digest, 18 of our courses are ranked in the "Top 100 Courses in America", 23 are ranked in the "Top 100 Courses in the World," and 32 hold televised events.
STANDARD LICENSE: This professional-grade software package is designed for Commercial Facilities. The Standard License is an owned software product that comes with: (27) Courses + Simulator Usage Analytics + League Management Tools. Users can set up an E6 CONNECT CLUBHOUSE to manage: events, seasons, and members, and even set manual handicaps for leagues. In addition, the Standard License gives users access to Simulator Analytics, including total shots, uptime, and more. The CLUBHOUSE can control multiple simulators and collate data from them simultaneously.
SUBSCRIPTIONS: The Basic Subscription gives users access to many of the features in E6 CONNECT, while rotating content monthly. The Expanded Subscription tier gives users access to all content in the E6 CONNECT Library, except for the Premium Course Content.
COMPATIBLE DEVICES: This dynamic software engine allows PC and iOS users complete in-game control and flexibility, and offers the same features on both platforms for access around the world. You can customize your playing experience with elevation control, atmospheric control, gameplay settings, and more.
ACCURACY: E6 CONNECT features LiDAR Mapped, digital recreations of golf courses accurate within centimeters of their real-world counterparts. Coupled with an advanced physics engine refined over 30 years, E6 offers the most realistic gameplay experience on the market, bringing the game of golf inside.
PARTNERS: E6 CONNECT is a tool designed to help business owners run their businesses. The E6 CONNECT Standard License can add the CLUBHOUSE Module – a professional-grade software package to help run Leagues and your Simulator Business. The remote web application lets users create leagues or events through a connected web application – while checking on the usage statistics of that simulator.
These perks only scratch the surface of what E6 and TruGolf have to offer. Swing by our website to learn more.