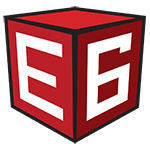 Standard Courses
This professional grade software package is designed for Commercial Facilities. The Standard License is an owned software product that comes with: (27) Courses + Simulator Usage Analytics + League Management Tools.
Buy Standard Courses
Get E6 Connect
E6 CONNECT is the highest-quality, most lifelike and customizable golf software ever created. Use it with launch monitors to teach or train on the driving range, to compete in leagues and online events at a commercial facility, or just play fun games at home with friends and family.
Shop E6 Connect